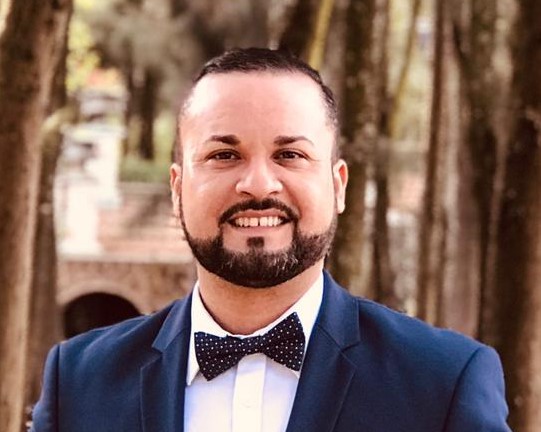 Investigador: Dr. Raúl R. Rodríguez Berrios
El Dr. Raúl R. Rodríguez Berrios es natural de Orocovis, Puerto Rico. El Dr. Rodríguez  finalizó en el 2004 su bachillerato en química en la Universidad de Puerto Rico Recinto de Cayey y completo su Ph.D. en Química orgánica en la Universidad de Puerto Rico Recinto de Rio Piedras en el 2010. Durante sus estudios doctorales fue becado por los programas Research Initiative for Student Enhancement Program (RISE), la fundación Alfred P. Sloan (NACME) y la Compañía de Fomento Industrial de Puerto Rico (PRIDCO). En el 2011 el Instituto Nacional de Ciencias Médicas Generales (NIGMS) le otorgó al Dr. Rodríguez una beca para realizar un postdoctorado en síntesis orgánica en la Universidad de Texas en Austin. Ese mismo año fue seleccionado y reconocido como uno de los 15 científicos jóvenes puertorriqueños más destacados dentro y fuera de Puerto Rico por la Unión Internacional de Química Pura y Aplicada (IUPAC). En el 2014 fue galardonado con la beca Iberoamericana para profesores jóvenes investigadores de Santander Universidades y su más reciente logro como científico fue en el 2019 cuando el programa "Puerto Rico Louis Stokes Alliance For Minority Participation (PR-LSAMP) le otorga una beca para hacer un internado de verano. El Dr. Rodríguez ha enseñado algunos cursos que incluyen Química General, Química Orgánica, Bioquímica, Química Analítica, Química de Productos Naturales y Ciencias de Alimentos. Actualmente, el Dr. Rodríguez es profesor e investigador en el área de educación en química orgánica y se encuentra en el desarrollo de nuevas experiencias de laboratorio que integren la tecnología e instrumentación para realizar investigación en los laboratorios de enseñanza subgraduada para los cursos de orgánica y bioquímica como parte del proyecto CAHREUS. Además, estudiará el aprovechamiento, percepción y aprendizaje de los estudiantes en los cursos de química orgánica, bioquímica y electivas relacionadas a nivel graduado y subgraduado como química de alimentos y productos naturales. También está interesado en desarrollar proyectos de investigación dirigidos a la preparación de nuevos nanomateriales usando fullerenos y síntesis de nuevas drogas o materiales basadas en hormonas sexuales que puedan tener aplicaciones en la medicina.
Researcher: Dr. Raúl R. Rodríguez Berrios
Dr. Raúl R. Rodríguez Berrios is native of Orocovis, Puerto Rico. In 2004, Dr. Rodríguez finished his bachelor's degree in chemistry at the University of Puerto Rico Cayey Campus and completed his Ph.D. in Organic Chemistry at the University of Puerto Rico Rio Piedras Campus in 2010. During his doctoral studies, he received scholarships from the Research Initiative for Student Enhancement Program (RISE), the Alfred P. Sloan Foundation (NACME), and the Puerto Rico Industrial Development Company (PRIDCO). In 2011, the National Institute of General Medical Sciences (NIGMS) awarded Dr. Rodríguez a postdoctoral fellowship in organic synthesis at the University of Texas at Austin. That same year he was selected and recognized as one of the 15 most outstanding young Puerto Rican scientists inside and outside of Puerto Rico by the International Union of Pure and Applied Chemistry (IUPAC). In 2014 he was awarded the Ibero-American scholarship for young research professors from Santander Universities and his most recent achievement as a scientist was in 2019 when the "Puerto Rico Louis Stokes Alliance For Minority Participation (PR-LSAMP) program awarded him a scholarship to do a summer internship. Dr. Rodríguez has taught a few courses including General Chemistry, Organic Chemistry, Biochemistry, Analytical Chemistry, Natural Product Chemistry, and Food Science. Currently, Dr. Rodríguez is a professor and researcher in the organic chemistry education area and is in the development of new laboratory experiences that integrate technology and instrumentation to carry out research in undergraduate teaching laboratories for organic and biochemistry courses as part of the CAHREUS project. In addition, he will study the use, perception, and learning in organic chemistry and biochemistry, and elective courses such as food and natural product chemistry at the graduate and undergraduate levels. He is also interested in developing research projects aimed at the preparation of new nanomaterials using fullerenes and the synthesis of new drugs or materials based on sex hormones that may have applications in medicine.
Información
Correo: raulr.rodriguez@upr.edu
Expertise: Química Orgánica y Bioquímica
Oficina: Ciencias Naturales CN-228 y Laboratorio educación en Bioquímica & Inorgánica CN-202B
Teléfono de Oficina: 787-764-0000 Ext. 88514
Teléfono de Laboratorio: 787-764-0000 Ext: 88505
Horas de Oficina: Martes 1:30 – 4:30 pm
Redes sociales: No aún
Publicaciones
Prieto, J. A., Torres, J. R., & Rodríguez-Berrios, R. (2014). Regiocontrolled Ring Opening of Monoprotected 2, 3-Epoxy-1, 4-diols by Using Alkynyl Aluminum Reagents: Synthesis of Differentially Monoprotected Alkynyl Triol Derivatives. Synlett, 25(03), 433-437.
Rodríguez-Berríos, R. R., Torres, G., & Prieto, J. A. (2011). Stereoselective VO(acac)2 catalyzed epoxidation of acyclic homoallylic diols. Complementary preparation of C2-syn-3, 4-epoxy alcohols. Tetrahedron, 67(5), 830-836. 
Torres, W., Rodríguez, R. R., & Prieto, J. A. (2009). Stereoselective Construction of all-anti Polypropionate Modules: Synthesis of the C5− C10 Fragment of Streptovaricin U. The Journal of organic chemistry, 74(6), 2447-2451.