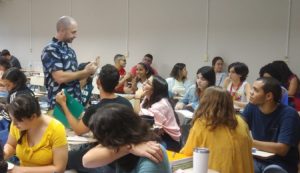 **The courses offered in the Department NEXT semester -starting August 2020 (S1, 2020-2021) are listed here.
The course offerings to fulfill your General Education, Science, and Biology requirements vary every semester. The Deanship of Academic Affairs has a complete list of courses that will allow you to fullfil the General Education component (Spanish, English, Literature, Art, and Seminars in General Sciences) of your undergraduate program.
Here we provide  a list of the undergraduate courses in Biology that are currently (Sem I, 2019-2020) being offered in the Department, and we expect to publish the list for next semester (Sem II, 2019-2020) as soon as it is available.