Evelyn Baez Colon
PhD Candidate in Environmental Sciences at UPR-RP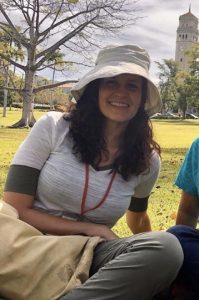 She holds a Master's degree in Public Health (MPH) from UPR-MSC, the Graduate School of Public Health, University of Puerto Rico, Medical Sciences Campus and a Bachelor degree in Biology Sciences from University of Puerto Rico at Rio Piedras. She has collaborated as a research assistant in courses such as Environmental Microbiology with Dr. Gary Gervais and Environmental Laboratory Techniques with Dr. Clifford Louime. She worked at the U.S. Department of Agriculture (USDA/FSIS) on research regarding food safety and public health. She currently works in the U.S. Health and Human Services Department - FDA as a Public Health investigator.
Her interest in Socio-Ecological Systems and Sustainability led her to found the organization Hacienda Agroecológica Renacer, an agroecological project with the objective of promoting a production model that preserves the ecological base, allowing communities to educate about environmental sustainability. She has been training in agroecology and permaculture for four years by taking workshops, internships and courses in Puerto Rico, Costa Rica and Cuba. Her doctoral thesis project is aimed at bioenergy and sustainable models: "Production of biogas and biofertilizer using anaerobic reactors (bio-digesters) with animal manure for small scale farmers". She researches on the development of biodigesters as part of a sustainable model, looking for the feasibility levels for the implementation of small-scale anaerobic reactors in Puerto Rico. She wishes to be able to expand the concept of bioenergy in PR and continue contributing to our sustainable development with possible alternatives and strategies that benefit the environment and that respond to climate change. She is collaborating with us in the internship of Natural Resources Management with the use of Unmanned Aircraft System (UAS) -drones, for data collection and spatial analysis (ArcGIS) in different areas of study, especially in local farms in the first phase of the project.
Contact: evelyn.baez@upr.edu
Luis Kidany Sellés
PhD Candidate student in Biology Department at UPR-RP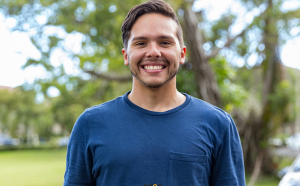 My long-term goal is to advance scientific knowledge on the functioning of Urban Systems in tropical regions, focusing on the social-ecological dynamics of soils. The main goal of my project is to evaluate the influence of anthropogenic disturbances on soil organic carbon levels in residential greenspaces of the Rio Piedras Watershed (RPWS) in Puerto Rico.
Contact: l.kidany@gmail.com
Stephanie Feliciano Cardona, MS
PhD student in Environmental Sciences Department at UPR-RP
My research focus is XXXXXXX. The main goal of my project is study different plant species using experimental warming studies to measure aspects of pollinator as pollinator visitation rate. Also, I want to examine how thermal stress affects floral fragrance, flowering phenology and how these alters the scent signals to pollinators, which may alter their capacity to identify resources and affect their cognitive abilities of learning and memory mechanisms.
Contact: stephanie.feliciano2@upr.edu
Molly Ramsey
PhD student in Environmental Sciences Department at UPR-RP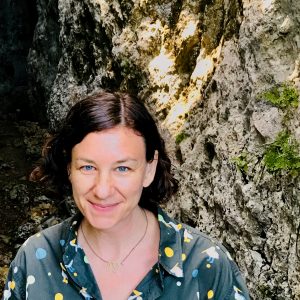 I am interested in citizen knowledge and engagement around flood management. Using interviews, citizen flood mapping, and the analysis of knowledge systems and governance, I'm exploring the challenges and potential opportunities for citizen participation in nature-based flood management in the tropical, riverine city of San Juan, Puerto Rico.
Contact: ramsey.molly@gmail.com
Digna M. Rivera Reyes
PhD Candidate student in Environmental Science at UPR-RP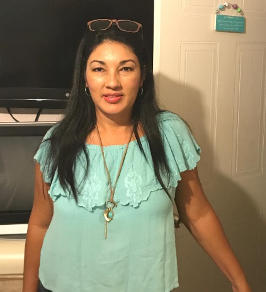 I have a Master's degree in Environmental Management from Metropolitan University at Cupey Campus and a Bachelor degree in Marine Biology from University of Puerto Rico at Humacao.
My research interest is the social-ecological dynamic of plant biodiversity in urban yards.  The main goal of my research is to determine the socio-economic and demographic drivers of vegetation variation in residential yards.  My study site will be two neighborhoods in Orlando City, which are very different in their socio-economic and demographic characteristics. In addition to contrast the plant biodiversity  of both neighborhoods and relate it to some of the socio-economic variables, I want to increase the quantity of yards that can acquire the NWF-Wildlife Habitat Certification.  My long-term goal is to provide the City of Orlando with information on those socio-economic and cultural barriers that prevent biodiversity from increasing in its urban areas.  Actually I'm working as Residential Recycling Project Assistant with the Solid Waste Division of the City of Orlando, doing research related to residential recycling and developing and applying education strategies to improve the recycling quality.  The experience acquired in this work will be very useful in my research since it has helped me to acquire skills in data collection techniques and develop unique educational strategies for Florida neighborhoods.
Contact: riveradigna.555@gmail.com
Rayza Hernandez
Master Student in Environmental Sciences Department at UPR-RP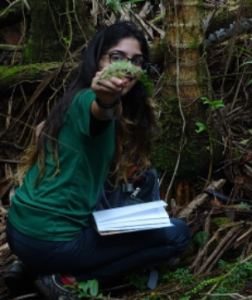 Lepanthes eltoroensis is a small, endangered epiphytic orchid, endemic to Puerto Rico with populations restricted to the El Yunque National Forest region.  This is an epiphytic plant that may be limited to a small number of hosts and associated to certain moss species. In this study we will  collaborate with the US Fish and Wildlife Service and the Department of Natural Resources and the Environment to collect demographic, habitat and climatological data to evaluate the dynamics of L. eltoroensis populations and re-valuate their current status and make recommendations on towards its recovery and potential for de-listing. 
Contact: rayza.hernandez@upr.edu
Robert A Espaillat Perez
Master Student in Biology Department at UPR-RP
With a Bachelor's degree in Biology from the Universidad del Sagrado Corazon. He recently entered the Biology Masters program at the University of Puerto Rico at Río Piedras, with a concentration in Ecology, Evolution and Biodiversity. Currently, his research focuses on rare species and modeling their distribution using remote sensing. He has previously worked investigating the importance of ecosystem services in the Laguna Tortuguero Natural Reserve, Vega Baja. Her research objective is to apply remote sensing technology to ecological research and to understand the factors that influence the distribution of rare species such as Gonocalyx concolor. This research will shed light on the biotic and abiotic factors impacting the distribution of a rare species, Gonocalyx concolor utilizing a multidisciplinary approach with remote sensing tools as an indispensable component to understanding wide scale landscape impacts. In addition to LiDAR and high-resolution imaging precipitation data, temperature and other climate data collected from the National Oceanic and Atmospheric Administration (NOAA) is utilized to further understand the ecological needs of a critical species that are partly restricted to delicate ecosystems such as tropical montane cloud forests.
Contact: robert.espaillat@upr.edu
Luis E Velazquez Roman
Master Student in Biology Department at UPR-RP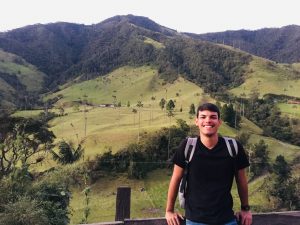 He has a Bachelor's degree in Biology from the University of Puerto Rico, Mayagüez Campus. Recently entered the Biology Graduate program at the University of Puerto Rico at Río Piedras, with a concentration in Ecology, Evolution and Biodiversity. Currently, his research focus is on ecosystems and urban birds interactions. He has previously worked investigating the effect of an urban gradient on bird biodiversity in the town of Mayagüez. Likewise, he has worked on creating distribution maps of the five most abundant butterfly species in Puerto Rico. Among its interests is the effect of urban planning and land use on the avian communities of Puerto Rican cities. In particular, he wants to study the impact of different urban stressors on the avian assemblages and diversity.
Contact: luis.velazquez11@upr.edu